Companion Curriculum for Wheelock's Latin
By: Dr. Melissa Schons Bishop
Wheelock's Latin for High School and College Students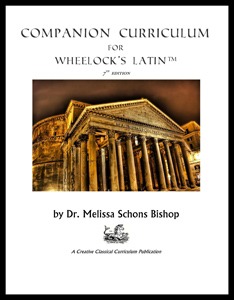 Time-saving supplemental curriculum reinforces vocabulary, forms and reading. Each chapter contains vocabulary practice and etymology. Grammar practice highlights acquisition of new forms, recognition of forms in context, and consistent review of previously learned material. Sententiae Antiquae are enhanced by exercises that put the timeless ideas of the Romans into a context that is readily understandable by the beginning Latin learners of this millenium, and work with connected passages helps students learn to read for context as well as accuracy. This time-saving curriculum provides teachers at both the high school and college levels with engaging, interesting supplements to the classic intro Latin textbook and provides a counterpoint to the book's formal approach to grammar in ways that support student comprehension and retention.
Assessments include 2 versions of a vocabulary quiz and 1-2 versions of a grammar/translation quiz in each chapter. Vocabulary variations offer one quiz that targets definitions only, or for more rigorous testers, a version that requires genitive singulars/genders for nouns and principal parts for verbs. Grammar/translation assessments may also occur in 2 formats, one focusing more on reading comprehension and identification of forms, the more rigorous version includes manipulation and creation of forms and literal translations. Unit tests follow every 4th chapter (5 total, also in the 2 formats), and there is a midterm exam following chapter 10 with a final exam following chapter 20. All vocabulary quizzes have Quia activities (online drills and activities) for review. Answer key is provided for all assessments.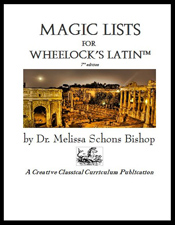 Magic lists are running vocabulary lists that give students the dictionary entry of each word in a sentence or passage, in the order that it occurs, EVERY time it appears in the passage. These lists assist students with vocabulary acquisition because they continuously confront the words, and the repetition of more commonly used vocabulary reinforces their memory. Magic lists level the playing field in any Latin classroom, because now all students have all the vocabulary, all the time. No downtime waiting for a student to remember a basic word, then having to decide if you will be the Human Dictionary, or call on one of the two or three students who always remember everything. This tool significantly reduces student anxiety about working on reading passages, and it gives teachers an edge in approaching reading at sight, because it allows you to focus on the forms and sentence structure instead of tripping over meanings. Quia activities (online games and drills) accompany the required vocabulary given in each chapter.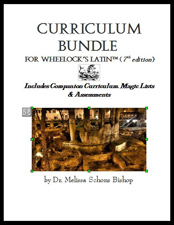 NEWLY PUBLISHED!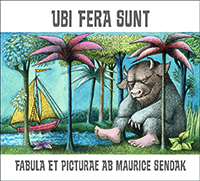 A lively, lovingly wrought Latin version of Maurice Sendak's classic children's book, WHERE THE WILD THINGS ARE, translated by noted Latinist Richard A. LaFleur (aka, Doctor Illa Flora).
Ecclesiastical, Medieval, and Neo-Latin Sentences
By Richard Upsher Smith, Jr.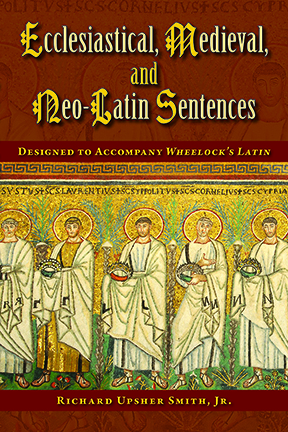 Ecclesiastical, Medieval, and Neo-Latin Sentences offers Sententiae and Loci Immutati complete with notes, vocabulary, and grammar explanations for the 40 chapters of Wheelock's Latin.
Find Them
By Sally Proctor
VERBA MIXTA LATINA for Wheelock's Latin is an entertaining way for students to engage with Latin vocabuary. These puzzles can be enjoyed by and benefit Latin students at any level!
Grammaticus
Grammaticus is the study aid specifically for Wheelock's Latin, 7th Edition, currently available for Android devices.

Companion Curriculum for Wheelock's Latin
By Melissa Schons Bishop
All new curriculum materials - Wheelock's Latin for High School and College students.
Scribblers, Scvlptors, and Scribes
By Richard A. LaFleur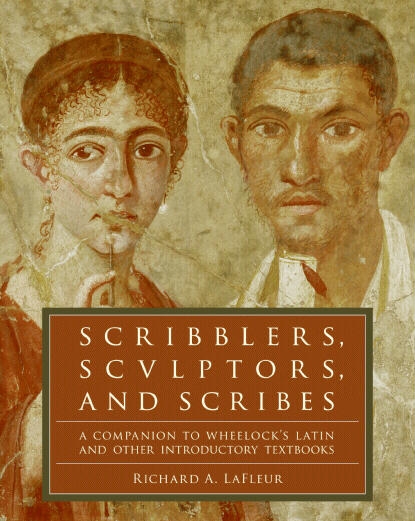 This all new supplementary reader is designed to accompany the Wheelock's curriculum, but is also suitable for any Latin program.
ONLINE STUDY GROUP for SCRIBBLERS:
contact Sally Winchester at bcuthill@us.net 
Wheelock's Latin GrammarQuick!

By Richard A. LaFleur, Brad Tillery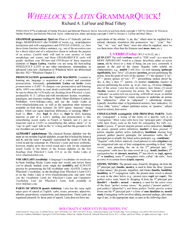 A quick and complete overview of Latin grammar—both forms and usage—on six durably coated cards, five-hole punched for easy insertion into notebooks. Arranged by part of speech, with summaries of all forms and the most common syntax, including case uses and subjunctive clauses. An essential companion to Wheelock's Latin and all introductory texts, and a handy reference guide for intermediate and more advanced students as well.
**Cumulative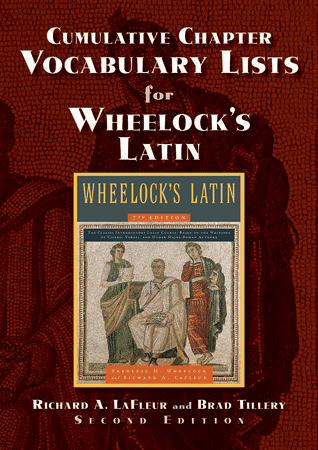 Chapter Vocabulary Lists for Wheelock's Latin--the list for each chapter contains all the words for that chapter as well as for all chapters preceding! from Bolchazy-Carducci.
**

Readings from Wheelock's Latin -- an extraordinary 4-CD audio package with recitations and dramatic performances available from Bolchazy-Carducci.
NOW AVAILABLE:
Online audio with a general introduction and pronunciation of all 40 chapter vocabularies (Macromedia Flash required). Simply click on the Audio Link in the menu above or go here.
The Wheelock's Latin Series isn't complete without:

Wheelock's Latin Reader
Originally intended as a sequel to Wheelock's Latin, this is the ideal text for any intermediate-level Latin course. Read not only classical authors but also medieval and late Latin writers.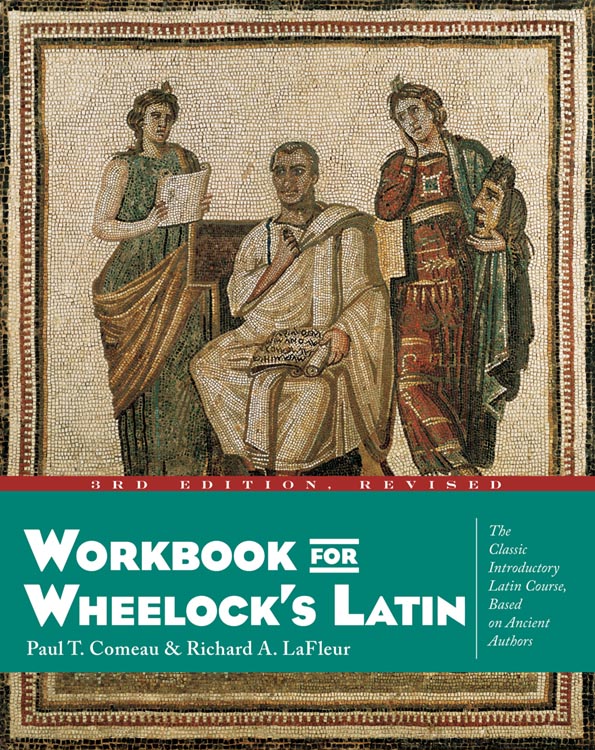 Workbook for Wheelock's Latin
You will find in this essential companion to Wheelock's Latin transformation drills, word power sections, reading comprehension questions and more.
Need a dictionary?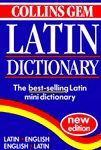 Collins Gem Latin Dictionary
This best-selling Latin mini-dictionary comes with a verbs and nouns supplement; numbers, dates and measures; plus an index of geographical names.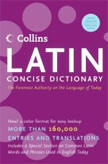 Harper Collins Latin Concise Dictionary
This is a Latin dictionary and grammar—two books in one. It also has supplements on Roman history, life and culture; words and phrases used in English; and more.
Did you know... if you refresh your page you get a new quote from either Amo, Amas, Amat and More or Veni, Vidi, Vici?
Don't want to study alone? Consider joining an online study group!