MORE REVIEWS of Workbook for Wheelock's Latin
Since its appearance in 1956, Frederic Wheelock's introductory Latin text has remained the standard in the field, a classic in its own right. I myself have used this work for over twenty years: as a high school freshman and again in college; for review and reference in graduate school; and now as my textbook of choice as a professor of Latin. Its basic premise remains as sound as ever, namely that the optimal way to learn classical Latin is to read the best ancient authors as soon as possible. The focus on real classical Latin, as well as the emphasis on the philosophical and literary culture of the Roman world, has made this text not only a primer of the Latin language, but also a fine introduction to classical humanism and a cornucopia of ancient authors.
Over the years, the various editions, first prepared by Wheelock himself and then by his able successor, the eminent classicist Richard LaFleur, have preserved the genius of Wheelock's vision, while making improvements based upon the suggestions of generations of colleagues and students. The sixth edition is still made up of 40 chapters with translation exercises, additional sections of self-tutorial exercises with answer keys, extended selections of ancient authors for further reading, appendices containing summaries of grammatical forms, a glossary, and grammatical index. However, recent editions have seen refinement and expansion of grammatical explanations, the use of larger print, more readings in continuous Latin within the chapters themselves, and helpful sections on English etymology and Romance language derivatives. In response to the needs and expectations of contemporary students, an enjoyable and helpful section containing informal discussion of familiar Latin phrases et alia has been added to each chapter, entitled Latina est gaudium et utilis (Latin is fun and useful).
The new sixth edition continues the tradition. A fine color reproduction of a mosaic of Virgil and his muse now graces the cover. Many photographs of classical and later European art have been added to the individual chapters, reflecting a theme from history or mythology illustrated in the chapter readings. Three new maps, of ancient Italy, Greece and the Aegean, and the Roman empire, respectively, have been specially designed to include Latin names of places mentioned in the various readings. Many of the practice exercises have been revised to better integrate recently-learned vocabulary and syntax, and the English-Latin vocabulary section of the glossary has been expanded.
All of these changes are welcome because they strengthen the core of Wheelock's Latin, namely, the selections from ancient authors. The Sententiae Antiquae in each chapter present sources of classical wisdom with accompanying translation exercises and introduce the student to the best authors. Furthermore, LaFleur has amplified the already wide range of prose and poetry selections in the chapter readings. While Cicero, Horace, and Catullus still remain at the center of the text, the witty epigrams of Martial, Trimalchio's teary-eyed comic recitation of his epitaph from Petronius' Satyricon (266), and Seneca's satirical description of the Emperor Claudius' "excremental expiration" (241) are just a few examples of the variety of authors and genres. This wide selection, along with the fine survey of Latin literature found in the introduction, provides students of many needs and backgrounds with an excellent grounding in Roman literature and culture.
The second edition of a Workbook for Wheelock's Latin is most welcome, although it must be said that the textbook itself already contains more exercises than one can use in an average college course. The workbook repeats much of what is already found in the self-tutorial exercises, but arranges the material in ways more pedagogically helpful and aesthetically appealing. The exercises are designed not only to test vocabulary and grammar, but also to ask questions requiring students to think about the grammar they are learning. The workbook also does not include the answers, an important consideration when assigning exercises for classroom and home use! The pages of the workbook can be easily detached, and thus easily collected. The authors are to be congratulated for producing a workbook so well integrated with the text. Selectively used, it can enhance student understanding of grammar and provide helpful review material.
For those long familiar with Wheelock's Latin, the new edition shows the continuing vitality of a venerable pedagogical classic. Likewise, those Latin teachers who remember only the earlier editions may want to take a fresh look at what will undoubtedly continue to be an important introductory textbook for new generations of Latin students. –Dr. William Hyland, Assistant Professor of Classics, St. Norbert College
The Wheelock's Latin Series isn't complete without:
Wheelock's Latin
This standard text for introductory Latin has been praised for its thoroughness, organization and conciseness. This edition includes maps, photos and more.
Wheelock's Latin Reader
Originally intended as a sequel to Wheelock's Latin, this is the ideal text for any intermediate-level Latin course. Read not only classical authors but also medieval and late Latin writers.
Need a dictionary?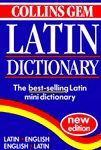 Collins Gem Latin Dictionary
This best-selling Latin mini-dictionary comes with a verbs and nouns supplement; numbers, dates and measures; plus an index of geographical names.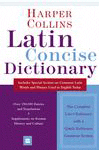 Harper Collins Latin Concise Dictionary
This is a Latin dictionary and grammar—two books in one. It also has supplements on Roman history, life and culture; words and phrases used in English; and more.
Don't want to study alone? Consider joining an online study group!